Running shoes with thick, padded soles, known as cushioned running shoes, are the current must-have for runners. Alongside traditional running, trail running is also starting to trend. Misael Mester, partner and concept manager of SPORT 2000 GmbH's Running division, covers the current trends in the running sector in this blog article. 
Running has been a boom for the past two years that is still going strong. "We've noticed that there are a lot of newcomers to running. Comprehensive advice is especially important for this target group. Not a lot is needed to start running, but the right footwear is essential," says Misael Mester, partner and concept manager of SPORT 2000 GmbH's Running division. After a two-year break from competition, active runners are also keen to measure themselves against others again. Selecting the right equipment is an important aspect, and sports retailers are the perfect contact for advice.
In focus: light and padded running shoes
Many manufacturers are currently turning their attention to running shoes with thicker soles that cushion against impact and increase running comfort. "The trend to thicker soles is definitely here to stay. We're even seeing it in the carbon-specific race models. The midsole isn't becoming heavier through the latest technologies, in fact it is often lighter and feels more comfortable for the majority of runners once it's been broken in. Cushioned shoes absorb the impact on hitting the ground and ensure the optimal connection between the shoe, the foot and the ground," explains Mester. For cushioned running shoes, as with all running shoes, the correct fit is decisive.
The perfect fit ensures the right impact
If the cushioned running shoe fits correctly, it can benefit the well-being of the body in addition to the pleasure gained from running. Athletes report that they feel like they are "running on clouds" with cushioned running shoes, and that they are less prone to injuries. "The fit of cushioned running shoes can be adapted through insoles, among other things. This means the shoe can be adapted even more individually to the runner," says Mester, adding: "The outer materials of running shoes now are also so flexible that they don't really have to be broken-in like they did in the past. The benefit is clear: customers can quickly decide whether the shoe fits or not. In the end, the most important factor is the ideal combination of fit, midsole, guidance and outer materials." The right sock also has an effect on whether the running shoe is a perfect fit. Some runners swear by compression stockings, which apply constant pressure to reduce the vibrations caused by the impact of running. It is always advisable to choose a model that fits well. Here, too, it is worth seeking professional advice at a sports retailer.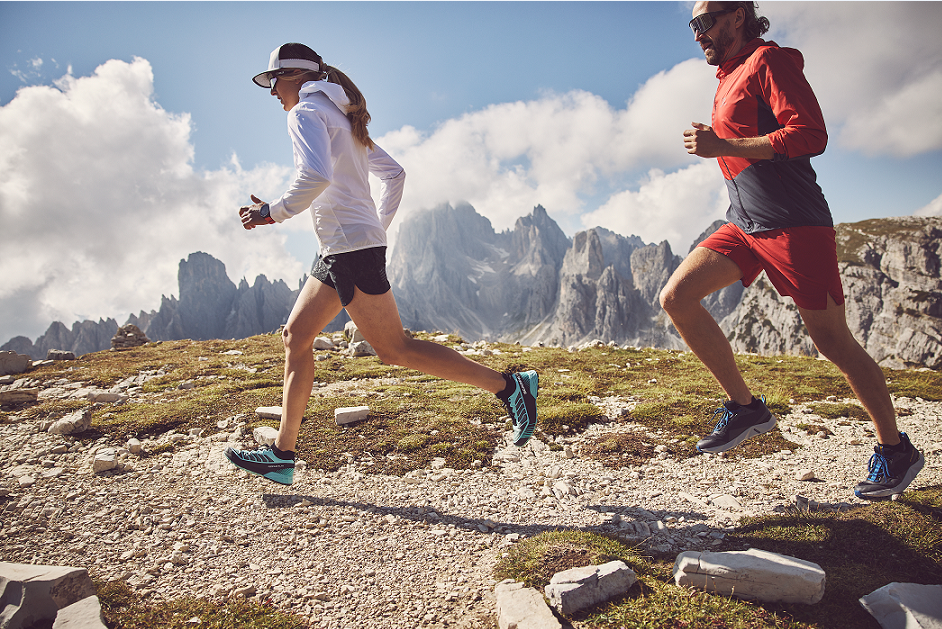 Trail running: running with detours
In addition to traditional running, more and more runners are trying out new paths. Trail running is everywhere now, but most concentrated in southern countries. "The various types of trail running require the right footwear, depending on the terrain. Good ground grip that ensures stability is especially important. Here, too, it pays to get expert consultation and compare models directly. Normal running shoes don't usually cover all of the requirements for trail running," says the Partner and Concept Manager of SPORT 2000 GmbH's Running division. He believes trail running will be an even bigger topic in sports retail in the coming years.
ABSOLUTE RUN: with individual consultation on the perfect running shoes
With ABSOLUTE RUN, SPORT 2000 has been focused on specialisation and providing expert consultation for runners in sports retail. ABSOLUTE RUN retailers receive close consultation and support in their business activities, central and complete campaign implementation, store design, supply chain organisation and
much more. This allows retailers to focus on their core skills, especially those that relate to providing individual consultation to athletes and motivating their community time and again with new and popular events. "Specialisation intiatives, such as ABSOLUTE RUN, have proven particularly successful and have a real future in sports retail. We aim to grow sustainably and in a high-quality manner. In the meantime, the seventh ABSOLUTE RUN store has now opened," says Mester.