Major crises put peoples' everyday lives to the test and often usher in lasting changes. In many countries, the circumstances surrounding the coronavirus have led to dramatic declines in social contact. One result of this is a sharp rise in internet use around the world. So while the current crisis has indeed shackled the retail industry through its forced store closures, it has also created opportunities: companies are now called on to find and forge digital paths to their customers, and to develop new and creative marketing measures.
Partnering brand ambassadors – who, thanks to digital change, have become increasingly visible across all industries – is one effective way of raising a company's profile. About a year ago, SPORT 2000 Deutschland embarked on one such partnership with the football freestyler David Rau (@david97_fs) with the goal of raising customer awareness for our team sport segment. This proved a success.
David became an important SPORT 2000 brand ambassador, proving particularly popular among our younger target groups. This benefited not just our team sport brands, but also our SPORT 2000 dealers specialising in team sports. Each campaign featuring David was followed by a spike in interest on all sides.
Influencers for the specialist sports retail sector – more than just advertising
Major sports brands such as adidas and Nike have long discovered the value of advertising through influencers – value that can also be harnessed by associations with companies such as SPORT 2000. After all, this partnership model offers a unique opportunity to support and strengthen both our dealers and our own brand. "This approach enables us to make a deeper impact on a much younger target group than is possible through classic advertising measures," explains Michael Kuhls, head of Marketing at SPORT 2000 GmbH Deutschland, on being asked about what motivated the company to work with David Rau. "With today's market characterised by excess supply, the specialist sports retail trade needs us to further enhance target group segmentation measures to effectively mobilise the right dialogue groups. And this is precisely what we are doing through our work with David, who is considered an important opinion leader within the football community." David uses his Instagram and YouTube channels to, for example, regularly update his followers on the latest football boot models.
The right influencer: Authenticity over reach
In David Rau, SPORT 2000 has found a team specialist who, because he fits the brand so perfectly, is able to effectively champion it through his valuable online content. To find a suitable influencer, the association of specialist sports retailers held a contest. "We invited people to take part in an influencer contest and received numerous entries. In the final stage, David won us over with his authenticity and his passion for team sport," explains Kuhls.
He goes on to stress that there is no specific recipe for finding the right person, and that while predefined KPIs such as reach and interaction rate can help in the selection process, they have little value on their own. "The most important thing for customers is that they feel an emotional connection to the brand. And you can only achieve this by working with credible influencers who understand and put their all into storytelling. Strong, authentic and inspiring stories are great for strengthening the bond between customers and a brand. That's why a person's individual character and authenticity are much more important than the reach," explains Kuhls.
Best practice example: SPORT 2000 #Auswärtsfahrt
In his role as brand ambassador, David is active not only on his own channels but also in SPORT 2000 campaigns. Last year saw him feature in 50 videos and 100 images, and also take part in 10 dealer visits. His most recent project – the #Auswärtsfahrt campaign – was launched in Autumn 2019. Here, six team sports brands (adidas, Derbystar, Hummel, Jako, Nike and Puma), cooperated with SPORT 2000 to hold a prize draw in which football teams could win 10 team busses for travelling to future fixtures.
David Rau starred in the campaign video. The prize draw was announced on the SPORT 2000 website and on David's channels – and the response was resounding. "So far the response to the campaign has been sensational, with more than 500 clubs sending in their entries in the form of creative pictures and videos. Eventually the lot decided on the winning teams" says Kuhls, animated as he recalls the successful online campaign.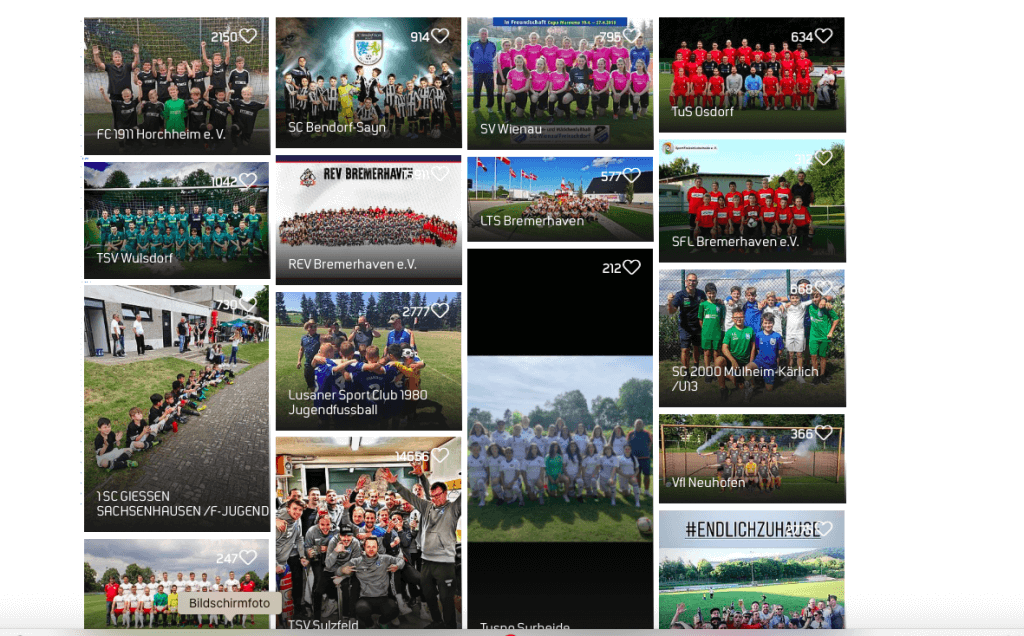 The professionalisation of influencer marketing
Collaboration with influencers is on the rise across all industries, and the old image of an influencer – that is, of someone who does the work on the side and occasionally gets sent free products as compensation – is now obsolete. As Kuhls sees it, the role of influencer now qualifies as a profession and must be treated as such: "Good influencers do a great job, investing a lot of their time in their work and demonstrating immense creativity. Their respective partners must therefore properly reward them for their efforts, and incorporate these rewards into their marketing budgets. Effective influencer marketing requires both sides to work together professionally as equal partners. Only in this way can they, and the customers they seek to appeal to, grow through and derive added value from the partnership."