SPORT 2000 now has a brand that replaces all previous exclusive brands – WITEBLAZE. The 360° approach consisting of textile, equipment and footwear is characterised by a multifunctional brand approach and timeless design without compromising on performance. A brand full of potential for dealers, producers and consumers. Verena Isabel Schledorn, Senior Category Manager for Outdoor & Winter Sports Textiles, and Mike Kerbage, Head of Marketing at SPORT 2000 International, provide background information on the brand development in the blog post and talk about what sets WITEBLAZE apart from all SPORT 2000 brands before it.
Whether they're doing some relaxing yoga, a challenging run, an intense workout in the gym or a breathtaking mountain tour: athletes are increasingly looking for multi-use products and brands that they can use as a crossover to many different sports. SPORT 2000 picks up on this social rethinking and brings durable and often versatile sports items onto the market with WITEBLAZE. Specialised expert products in the areas of footwear and equipment complement the brand portfolio. "Consumers are buying more and more consciously and sustainably. At the same time, they don't want to compromise on performance, functionality or design," says Verena Isabel Schledorn, Senior Category Manager for Outdoor & Winter Sports Textiles. She continues: "WITEBLAZE has an impressive 360° product range that is multifunctional and combinable and is characterised by a stylish, timeless design. WITEBLAZE follows the 'buy less, buy better' approach and thus precisely meets customer demand for more sustainability in the entire product life cycle." Social developments and long-term trends underpin the brand.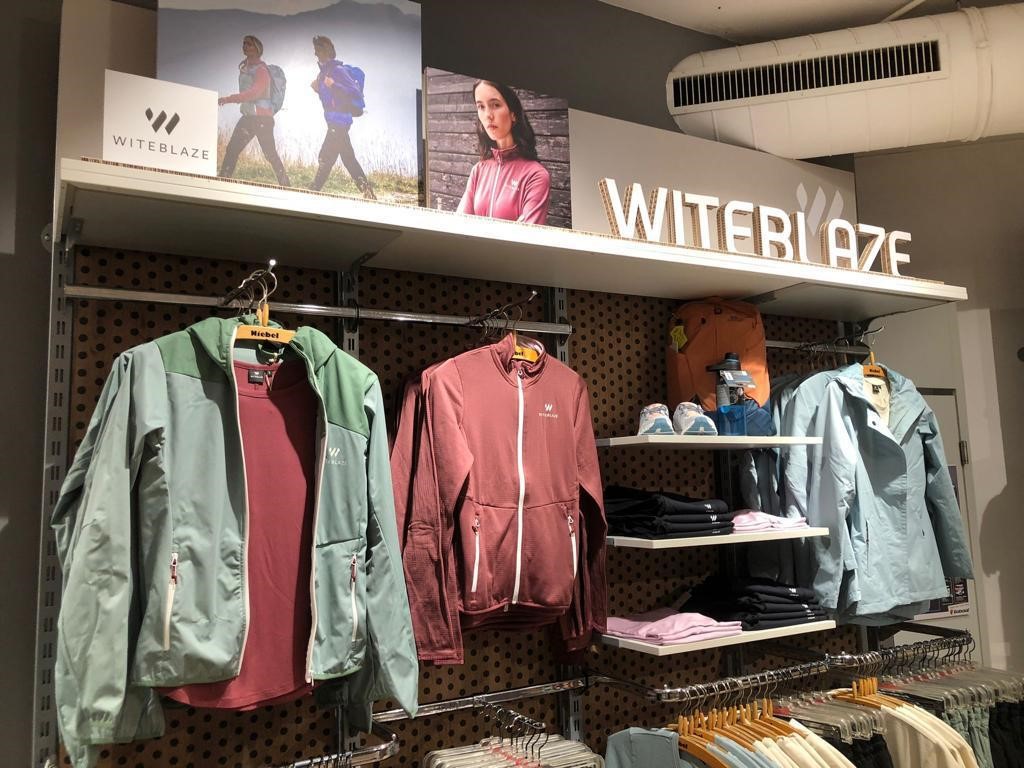 WITEBLAZE impressive at the POS
It has been a long journey for SPORT 2000 from the idea of launching a new brand to the products at the POS. "Holding the first prototypes in our hands and testing them was a great feeling. At the same time, it also triggered a sense of 'Now the WITEBLAZE journey really begins'," Schledorn recalls. She compares brand development to the development of a child: "We are now at the point where it is slowly starting to spread its wings, but still needs a lot of nurturing." SPORT 2000 launched the new WITEBLAZE brand in the 2022 summer season. One year later, at the start of the spring/summer 2023 season, customers will find the diverse WITEBLAZE range at the POS of SPORT 2000 retailers. "The main focus is now to further expand WITEBLAZE's presence in our network and to work closely with our countries to make WITEBLAZE more visible worldwide – both on and offline. What drives us is to inspire people for sport," says SPORT 2000 International Marketing Manager Mike Kerbage. WITEBLAZE athletes can find inspiration on the popular social media platforms Facebook and Instagram as well as on the website. "We work with passionate athletes, particularly in the social media area. This gives us the opportunity to present our brand authentically and share our values," says Kerbage.
A single community brand for all SPORT 2000 countries
WITEBLAZE sees itself as a living community brand that thrives on the inspiration and ideas of consumers, retailers and colleagues. "This clearly sets WITEBLAZE apart from our previous SPORT 2000 exclusive brands. Our core team delivers forward-looking ideas and approaches. However, WITEBLAZE only becomes alive and present through our community," says Schledorn, who has been in charge of the brand development from the beginning. SPORT 2000 works together as a transnational WITEBLAZE team, led by SPORT 2000 International, to integrate as many different perspectives as possible into brand and product development. Schledorn is convinced that it primarily takes real passion to realise a strong brand. "We are all on fire for sport and our brand. You can really feel our passion," says Schledorn, giving her insights.
WITEBLAZE enables sustainable, performance-oriented consumption
WITEBLAZE enables sustainable, performance-oriented consumption by using combinable and durable multi-use sporting goods and selected expert products. "We attach great importance to the responsible use of resources and raw materials, both in the brand and product development of WITEBLAZE and in our cooperation with external partners," says Schledorn. She adds: "We sell only PFC-free textiles, avoid unnecessary packaging components, use sustainable packaging materials and keep the design language clean and timeless." When selecting production facilities, SPORT 2000 relies on family-run businesses and regional service providers that meet high standards and are predominantly BSCI-certified. "We are keen on long-term partnerships characterised by respect. To make this a reality, we regularly engage in personal dialogue with our external partners," says Schledorn, who sees the cooperation as a win-win situation.