Children learning to swim safely and adults keeping fit in the water: this is the ambition swimwear supplier BECO has for its cooperation with associations and European sports retailers. BECO area sales manager Kirsten Schweighöfer addresses the central questions in this blog post: safety aspects that are relevant when swimming, demands customers make on equipment and the must-haves every store needs to have in its range.
Exercise in and around water is particularly popular in Europe, spanning all ages, genders, budgets, fitness levels and seasons. Swimming is one of the most popular sports among Europeans, as various studies have shown. Whereas 100 years or so ago a mere 3% of the German population could swim, today the majority of the population can at least stay afloat. One in two people can swim anywhere between well and very well. After having long been standard practice in many countries for children to learn to swim at a young age, this positive development has tailed off again in recent years.
Fun in the water needs to be safe
Cancelled swimming courses during the Corona pandemic and a subsequent lack of capacity are chief among the reasons for this. Kirsten Schweighöfer, Area Sales Manager at BECO, needs no further convincing: "Regular and comprehensive swimming lessons at school noticeably improve children's swimming ability and prevent swimming accidents." BECO relies on close ties with water sports clubs and swimming schools and supports various learn-to-swim campaigns, such as the Academy for Prevention and Fitness's OWSK – Open Water Swim Kids project: "Children learn to follow the OWSK method to swim safely in open water. This is an important topic because many accidents happen in open water," explains Kirsten Schweighöfer. Children's swimming ability is often overestimated, especially as swimming in the pool is nothing like safe swimming in a lake, the sea, or a wave pool.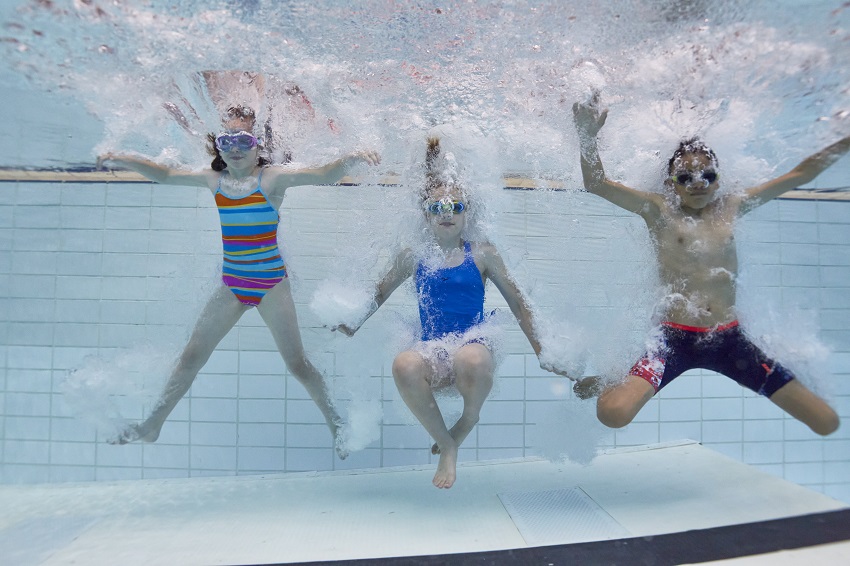 Water sports: a 365-days-a-year season
"The bathing and swimming segment has developed from a seasonal activity to a round-the-year one," observes Key Account Manager Schweighöfer. "Adventure pools, thermal spas and wellness offers attract people all year round, and long-distance travel also contributes to this." Classic swimming has been joined by activities such as paddle-boarding, diving, rowing, surfing or aqua fitness. Whether for leisure or competitive sports – the demand for quality in personal equipment has increased: "A good fit and cuts and material that are right for the activity are key buying criteria," says Schweighöfer, who also emphasises the trend towards multifunctionality in this context: "There is increasingly demand for items for wider use in sports and leisure in and around the water, for example, rash guards with UV protection for beach or SUP activities, sporty bikinis both for swimming and playing beach volleyball."
Must-haves for beginners and passionate swimmers
Kirsten Schweighöfer talks about the absolute must-haves in swimwear: swimming costumes and plain bikinis – mix and match is best, swimming shorts and trunks for men, functional bathing shoes, swimming goggles and caps. Supports for learner swimmers such as pullkicks or kickboards, hand paddles and short fins join the list. "When it comes to children, the focus is firmly on safety," she emphasises and adds: "TÜV-certified swimming aids, life jackets and the like are absolute essentials here." A leading European swimming brand, BECO wants to make children actively want to be in the water and help them learn to swim. "We worked with swimming instructors to develop our BECO Sealife series and make swimming more attractive and suitable for children – with age-appropriate, certified swimming aids in the cool Sealife design. Products that make children want to learn to swim."
Sport in harmony with the environment
Sustainability is also coming increasingly into focus in the swimming and bathing segment: the recyclability of materials is under the spotlight, items should preferably be produced in Europe again, and the trend in packaging is distinctly away from blister packs and plastic. BECO develops products with a long service life with an eye to conserving resources. "We increasingly use materials from recycling wherever possible and avoid unnecessary packaging material," says Schweighöfer. With BECO at its side, SPORT 2000 is safe in the knowledge that it is working with a partner who is just as committed to sport being in harmony with the environment.