With the start of the new school term in autumn, regular physical education sessions are back on the timetable for children and teenagers. Sufficient exercise is essential for healthy development, especially as obesity and inactivity are on the rise. The sports industry is making an important contribution in motivating the population's youngsters to get involved with sport, acquiring the target group of the future at the same time.
September hails the return to school of children and teenagers all over the world. Students will spend a lot of time sitting on their desk. But they will also have many sports classes. In view of increasing problems with obesity, this is a good start. In Germany, Sweden and Switzerland, one in every six children is overweight; in Greece or Italy the same is true of one in three children – and the pandemic has exacerbated this trend. Sports lessons and team sports were cancelled, while scores of ski trips and activity weeks were called off. This meant kids spent more time at home, often in front of various screens and with unhealthy snacks. The negative consequences of this lack of exercise on the fitness and well-being of young people have now been confirmed by numerous studies. These are all good reasons for SPORT 2000 International to make their retailers aware of this issue.
Sport for a healthy lifestyle
"We all know how important regular exercise is for a healthy lifestyle. Age-appropriate forms of exercise strengthen the musculoskeletal system, prevent bad posture, lifestyle diseases and obesity, while also training coordination, endurance and dexterity. Positive effects on school performance are also a welcome side effect," says André Navratil, Category Manager at SPORT 2000 International. However, according to a HVSC study, only a fifth of 11- to 15-year-olds get the recommended 60 minutes of exercise each day. While younger children tend to enjoy acting on their natural urge to move, it is increasingly difficult to motivate teenagers to burn off their energy once puberty kicks in. If extra weight adds extra strain to physical activity, it quickly becomes a vicious circle: frustration in PE lessons and on hikes, avoidance of sporting pursuits in their leisure time, body shaming and social exclusion are all conducive to withdrawal from physical activity and therefore weight gain.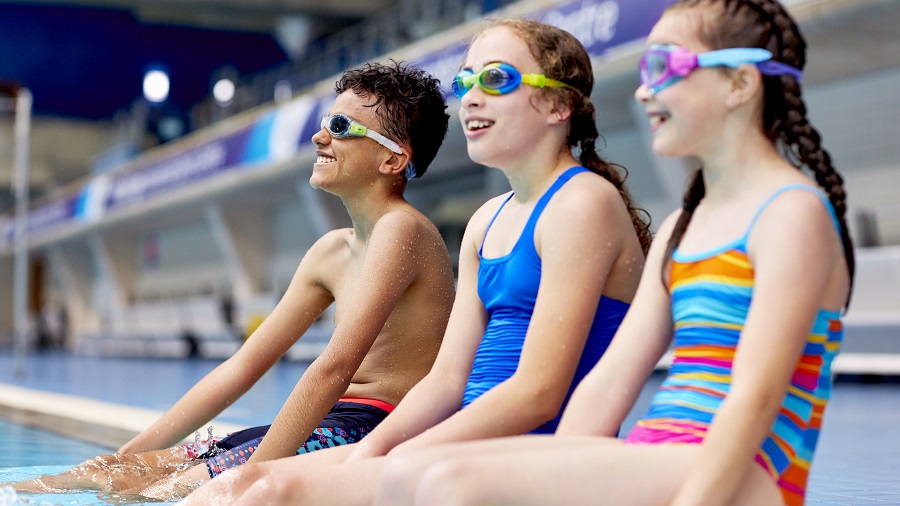 Getting kids moving
The foundation for a good body image and enjoyment of sports is laid in childhood. To get the youngest kids enthusiastic about sports, it is crucial that they have fun in a group and frequently experience small successes. Team spirit and role models from the world of sports are additional motivational factors. Besides schools, after-school programmes and sports clubs, the sports industry also makes an important contribution to getting those couch potatoes moving. Introductory courses for trying out new and trendy sports are in demand. Playful tools spark the curiosity of gamers; the keyword here is gamification. "When it comes to sportswear, plus sizes should not be forgotten – that applies to both the range available and the marketing. Testimonials that many can identify with appeal to youngsters," explains Navratil.
Sports bag essentials
From pre-school to secondary school, the obligatory sports bag is part of basic kit. While gym shoes and comfortable clothing suffice for younger children, as they move up the school system, well-fitting indoor shoes and functional all-round sports clothing is required for young people – ideally in the form of a breathable T-shirt and shorts or leggings for freedom of movement. Sales in sports retailers can be increased year on year at the start of the school term with clothing and footwear that appeal in particular to this young target group. Industry and retailers not only support their own business with attractive offers in this way, but also the motivation of youngsters. Trendy sportswear, which is appropriate to the lifestyle of this young generation, increases not only their enjoyment of sport, but also their self-confidence.
The customers of the future
In order to satisfy the whole family in-store, a youth range is needed for all major sports, as well as vivid presentations. The challenge is to appeal to both children and their parents as well as teenagers using various merchandising tactics. "While parents often focus on quality and functionality at specialist retailers, children are drawn by visual characteristics such as popular colours, images and, in particular, brands. Many identify with their idols or want to belong to a particular group and show that affiliation with their outfit," says André Navratil. Furthermore, the Category Manager sees a lot of potential in the principle of one-stop shopping. "The best way for us to reach children and teenagers is through their parents, especially their mothers. If a mother gets their child kitted out in a store, you should seize the opportunity by offering her additional products for her children. This means that she will get everything that she needs in a single shop and is spared a trip to other stores – a win-win situation for everyone." Investing in the young target group is worthwhile on a number of levels. After all, not only are kids constantly growing and changing their tastes, they also have the potential to become regular customers. If you grow up getting kitted out at a specialist sports retailer because you get top advice and a great range to choose from there, you will probably remain loyal to a brick-and-mortar sports retailer as an adult.